Nursery Meal Information
We make every effort to give the children in our care a healthy, nutritious and balanced diet. Research shows that eating breakfast helps to support a child's learning. We understand that some children are allergic to specific foods and at Little Jo's Day Nursery we take this very seriously.
The 14 main food allergens: /admin/resources/main-content/top-allergy-types.pdf
Parents are requested to notify us in writing if their child has a food allergy and when this information is recieved it it passed onto our kitchen team and the Early Years Practitioners. The kitchen team strive to ensure that alternative meals are simular to the main set meal, just without the allergen(s). For example, dairy based dishes would be replaced with dairy free products and soya or oak milk instead of cow's milk. These meals are prepared attentively by our cook who is Level 2 Food Safety trained.
Below shows what one of our typical menu consists of (September 2021). We have a four week rolling menu and also do a childrens choice menu.
Monday
Morning Snack:
Choice of fruit
Dinner:
Main: ​Cottage pie with vegetables
Dessert: Flapjack
Afternoon Snack:
Vegetable sticks and dip
Tea:
Baked beans on toast
Tuesday
Morning Snack:
Vegetable sticks and dip
Dinner:
Main:Chicken curry, rice and naan Bread
Dessert: Yoghurt
Afternoon Snack:
Choice of fruit
Tea:
Homemade vegetable soup or tomato Soup with crusty bread.
Wednesday
Morning Snack:
Choice of fruit
Dinner:
Main: Sausage, mashed potato and baked beans
Dessert: Fruit salad
Afternoon Snack:
Vegetable sticks and dip
Tea:
Homemade pitta pizza
Thursday
Morning Snack:
Vegetable sticks and dip
Dinner:
Main: Chicken Dinner
Dessert: Custard
Afternoon Snack:
Choice of fruit
Tea:
Tomato pasta bake
Friday
Morning Snack:
Choice of fruit
Dinner:
Main: ​Jacket Potato with Bolognaise and a sprinkle of cheese
Dessert: Yoghurt
Afternoon Snack:
Vegetable sticks and dip
Tea:
Selection of sandwiches
Meal Ideas - Try them at home
We like to change our menus from time to time but would ideally love to have your input and your favourite recipes from home.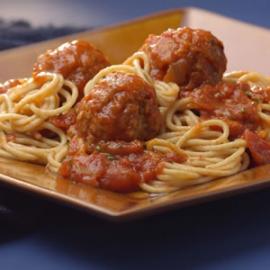 Title: Old fashioned Spagetti and Meatballs Recipe: Old Fashioned Spagetti and Meatballs
Makes: 6 servings
Active Time: 40 minutes
Total Time: 1 1/4 hours
Ingredients
Meatballs
1/3 cup bulgur
1/2 cup hot water
5oz of lean ground beef
3 oz spicy Italian sausage (or 4 more ounce of ground beef if preferred)
1 medium onion, very finely chopped
2 large egg whites, lightly beaten
3 cloves garlic, very finely chopped
1 teaspoon dried oregano
1/2 teaspoon freshly ground pepper
1 cup fresh breadcrumbs, preferably whole-wheat (see Tip)
Sauce & Spaghetti
4 cups prepared marinara sauce
1/2 cup slivered fresh basil leaves, or chopped fresh parsley
1 pound whole-wheat spaghetti, or linguine
1/2 cup freshly grated Parmesan, or Romano cheese (1 ounce)
Preparation
To prepare meatballs: Combine bulgur and water in a small bowl. Let stand until the bulgur is tender and the liquid is absorbed, about 30 minutes.
Preheat oven to 350°F. Coat a rack with cooking spray and place it over a baking sheet lined with foil.
Combine ground beef, sausage, onion, egg whites, garlic, oregano, salt, pepper, breadcrumbs and the soaked bulgur in a large bowl; mix well. Form the mixture into 1-inch meatballs (about 24). Place the meatballs on the rack and bake for 25 minutes. Blot well with paper towel.
To prepare sauce & spaghetti: Put a large pot of lightly salted water on to boil. Bring sauce to a simmer in a Dutch oven. Add the meatballs to the sauce and simmer, covered, for 20 minutes. Stir in basil (or parsley).
Meanwhile, cook spaghetti (or linguine) until just tender, 8 to 10 minutes. Drain and transfer to a serving bowl. Top with the sauce and meatballs and serve with grated cheese.
Tips & Notes
Tip: To make fresh breadcrumbs: Trim crusts from firm sandwich bread. Tear the bread into pieces and process in a food processor until coarse crumbs form. One slice makes about 1/3 cup.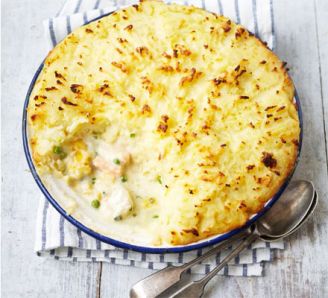 Title: Traditional Fish Pie Recipe: Traditional Fish Pie
This traditional fish pie recipe makes a great family meal and is easy to prepare in advance and heat up when needed.
Ingredients
Preparation method
Preheat the oven to 180C/160C Fan/Gas 4.

Prick the potatoes all over with a fork, then rub each one with a little of the oil. Sprinkle a roasting tray with the rock salt and place the potatoes on top. Bake for 1-1½ hours, or until tender.

Meanwhile, half-fill a large frying pan with water and bring to a simmer. Add the onion, black peppercorns, bay leaves and all of the fish, poach for 3-4 minutes. Lift the fish from the pan using a slotted spoon, and set aside. Strain the fish stock through a sieve suspended over a large bowl. Reserve the strained stock and discard the onion, bay leaves and peppercorns.

Melt 100g/3½oz of the butter in a saucepan over a medium heat. Whisk in the flour to form a smooth paste, then cook for a further 1-2 minutes.

Whisk in 50ml/2fl oz of the milk until it is fully incorporated into the roux. Continue to add 350ml/12fl oz of the remaining milk to the roux little by little, whisking after each addition, until the sauce is smooth and thick.

Pour 750ml/25fl oz of the fish stock to the roux sauce, stir well and cook for 4-5 minutes, or until the sauce is smooth and just thick enough to coat the back of a spoon. Any remaining fish stock can be chilled and frozen for use in another dish.

Stir in the lemon zest and juice, and the parsley, then season with pepper. Remove from the heat. Stir the prawns into the sauce, then flake in the poached fish, keeping it in reasonably large pieces. Transfer the pie filling to a large ovenproof dish.

When the potatoes are cooked, remove them from the oven and increase the oven temperature to 220C/200C Fan/Gas 7.

When the potatoes are just cool enough to handle, slice them in half, scoop out the flesh and pass it through a potato ricer into a pan set over a medium heat. Add 75g/2¾oz of the butter and the remaining of milk to the potatoes and beat over the heat until the mash is smooth and thick and not too soft.

Spoon the mash into a piping bag with a large star-shaped nozzle and pipe the mashed potato all over the fish pie filling. Sprinkle over the grated cheese. Alternatively, just spread the mashed potato onto the filling using a palette knife.

Place the ovenproof dish onto a baking sheet and cook in the oven for 5-10 minutes, or until the cheese and potatoes are golden-brown and the pie is heated through.

While the fish pie heats through, bring a pan of salted water to the boil, add the peas and cook for 2-3 minutes, until tender. Drain well and return to the pan, then stir in the remaining butter and season with salt and pepper. Serve the fish pie with the peas alongside.
Top recipe tip
This dish can be prepared in advance and cooked later. Pipe the mashed potatoes onto the pie filling and sprinkle over the cheese, then leave to cool before chilling or freezing until needed. Defrost before cooking and bake for 30 minutes, or until piping hot throughout.
Find this and more recipes on line.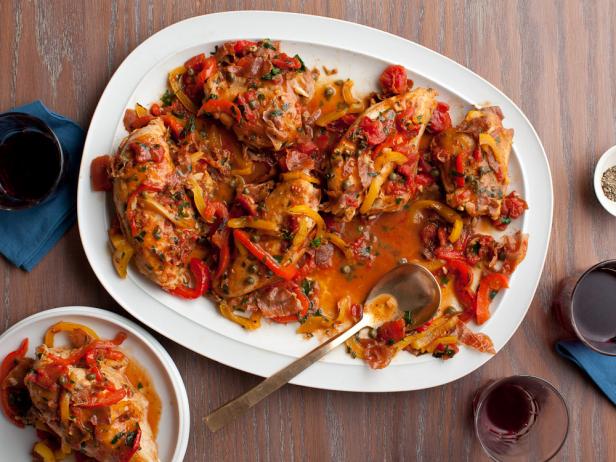 Title: Roman Chicken Recipe: Roman Chicken
Ingredients
4 skinless chicken breast halves, with ribs

2 skinless chicken thighs, with bones (Remove before serving)

1/2 teaspoon freshly ground black pepper, plus 1 teaspoon

1/4 cup olive oil

1 red bell pepper, sliced

1 yellow bell pepper, sliced

3 ounces prosciutto, chopped

2 cloves garlic, chopped

1 (15-ounce) can diced tomatoes

1/2 cup white wine (optional but achohol will burn off)

1 tablespoon fresh thyme leaves

1 teaspoon fresh oregano leaves

1/2 cup chicken stock

1/4 cup chopped fresh flat-leaf parsley leaves
Season the chicken with 1/2 teaspoon pepper. In a heavy, large skillet, heat the olive oil over medium heat. When the oil is hot, cook the chicken until browned on both sides. Remove from the pan and set aside.
Keeping the same pan over medium heat, add the peppers and prosciutto and cook until the peppers have browned and the prosciutto is crisp, about 5 minutes. Add the garlic and cook for 1 minute. Add the tomatoes, wine, and herbs. Using a wooden spoon, scrape the browned bits off the bottom of the pan. Return the chicken to the pan, add the stock, and bring the mixture to a boil. Reduce the heat and simmer, covered, until the chicken is cooked through, about 20 to 30 minutes.
If serving immediately, add the capers and the parsley. Stir to combine and serve. If making ahead of time, transfer the chicken and sauce to a storage container, cool, and refrigerate. The next day, reheat the chicken to a simmer over medium heat. Stir in the capers and the parsley and serve.
Recipe courtesy of Giada De Laurentiis