News Letter - February 2016. Keeping parents informed
Dates for your Diary
Most of you will be aware that we had our OFSTED inspection on the 22nd of January. We are delighted to inform you that we were awarded –
OUTSTANDING!
We are very proud to be the first Private Day Nursery to be awarded Outstanding under the new inspection framework which was introduced in September 2015. According to our local authority representative it now very difficult to achieve this status.
I would like to thank all the staff at Little Jo's for their hard work and commitment to children and families through quality practices. We are so very proud of them…for their continued, passion, drive and professionalism that has been evident since our last inspection. They have supported our vision of making a difference for children, providing them with the skills, knowledge and experiences to support their future learning opportunities.
The team would like to thank parents and carers who supported the inspection process by providing feedback to the inspector. We value any comments you provide us with regardless of its content, it is about how we help or improve yours and your child's experiences, care or learning and development. The inspection report is available in nursery.
Dates for your Diary
1. The half term holidays are W/C 8th February 2016. Please note we are closed to children accessing funding only.
2. Parents meetings will be held over the last week of term w/c 14th March 16. Please see your child's key person if you would like to book an appointment.
3. As you will know, Easter is much earlier this year. Nursery will close for funded only children on the 18th March and reopen on the 4th April 2016.
Keeping you informed
We are now taking bookings for the February half term holidays. If you would like to take advantage of this, please see a member of staff.
We are currently reviewing our Parents as Partners Policy and Procedures, Inclusion and Diversity Policy and Behaviour Management Policy. We would be grateful for your input. Copies of the policies can be available to you via email or by paper copy.
For those of you who don't know, we have a Face Book page which posts news, ideas and information.
Keeping us Informed
Can parents please ensure that nursery has all your up to date contact numbers and addresses in the case of an emergency.
Thank you for your continued support!
Nursery Meal Information
We make every effort to give the children in our care a healthy, nutritious and balanced diet. Research shows that eating breakfast helps to support a child's learning. Each morning the children are able to select their own breakfast and drink from our selection of cereals and toast, milk, water or orange juice.
Below shows what our typical menu consists of (September 2016): -
Monday
Morning Snack:
Apple & Pear snack pot
Dinner:
Main: ​Chilli Con Carne or Vegetable Rice served with Tortilla Chips.
Dessert: Banana & Custard
Afternoon Snack:
Breadsticks & dip
Tea:
Beans, Spagetti or Scrambled egg on toast
Tuesday
Morning Snack:
Pitta Bread & Hummus
Dinner:
Main: Fish Crumble served with Seasonal Vegetables.
Dessert: Strawberry or Bannana Whip
Afternoon Snack:
Grapes & Pineapple
Tea:
Tomato Pasta with Cucumber and Carrot Sticks
Wednesday
Morning Snack:
Pepper & Carrot Sticks
Dinner:
Main: Chicken chow Mein served with Noodles.
Dessert: Fromage Frais or Jelly & Ice cream
Afternoon Snack:
Choice of Biscuit
Tea:
Ham and Cheese Pitta Pockets served with Salad
Thursday
Morning Snack:
Rice Cakes or crackers
Dinner:
Main: Roast Chicken served with Seasonal Vegetables.
Dessert: Seasonal Fruit Salad
Afternoon Snack:
Banana & Kiwi fruit pot
Tea:
Quick and easy baby Jackets served with cheese, tuna or beans.
Friday
Morning Snack:
Satsuma & Melon fruit pot
Dinner:
Main: ​Creamy Chicken served with Seasonal Vegetables.
Dessert: Fruit Crumble with Custard or Cream
Afternoon Snack:
Tortilla chips & dip
Tea:
Sausage, Bean and Mash Pie
Meal Ideas - Try them at home
We like to change our menus from time to time but would ideally love to have your input and your favourite recipes from home.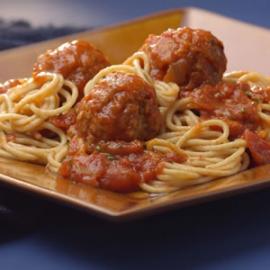 Title: Old fashioned Spagetti and Meatballs Recipe: Old Fashioned Spagetti and Meatballs
Makes: 6 servings
Active Time: 40 minutes
Total Time: 1 1/4 hours
Ingredients
Meatballs
1/3 cup bulgur
1/2 cup hot water
5oz of lean ground beef
3 oz spicy Italian sausage (or 4 more ounce of ground beef if preferred)
1 medium onion, very finely chopped
2 large egg whites, lightly beaten
3 cloves garlic, very finely chopped
1 teaspoon dried oregano
1/2 teaspoon freshly ground pepper
1 cup fresh breadcrumbs, preferably whole-wheat (see Tip)
Sauce & Spaghetti
4 cups prepared marinara sauce
1/2 cup slivered fresh basil leaves, or chopped fresh parsley
1 pound whole-wheat spaghetti, or linguine
1/2 cup freshly grated Parmesan, or Romano cheese (1 ounce)
Preparation
To prepare meatballs: Combine bulgur and water in a small bowl. Let stand until the bulgur is tender and the liquid is absorbed, about 30 minutes.
Preheat oven to 350°F. Coat a rack with cooking spray and place it over a baking sheet lined with foil.
Combine ground beef, sausage, onion, egg whites, garlic, oregano, salt, pepper, breadcrumbs and the soaked bulgur in a large bowl; mix well. Form the mixture into 1-inch meatballs (about 24). Place the meatballs on the rack and bake for 25 minutes. Blot well with paper towel.
To prepare sauce & spaghetti: Put a large pot of lightly salted water on to boil. Bring sauce to a simmer in a Dutch oven. Add the meatballs to the sauce and simmer, covered, for 20 minutes. Stir in basil (or parsley).
Meanwhile, cook spaghetti (or linguine) until just tender, 8 to 10 minutes. Drain and transfer to a serving bowl. Top with the sauce and meatballs and serve with grated cheese.
Tips & Notes
Tip: To make fresh breadcrumbs: Trim crusts from firm sandwich bread. Tear the bread into pieces and process in a food processor until coarse crumbs form. One slice makes about 1/3 cup.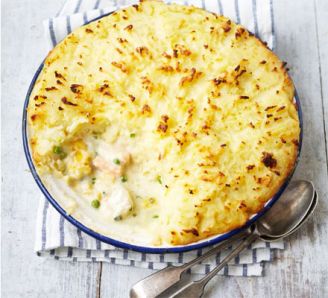 Title: Traditional Fish Pie Recipe: Traditional Fish Pie
This traditional fish pie recipe makes a great family meal and is easy to prepare in advance and heat up when needed.
Ingredients
Preparation method
Preheat the oven to 180C/160C Fan/Gas 4.

Prick the potatoes all over with a fork, then rub each one with a little of the oil. Sprinkle a roasting tray with the rock salt and place the potatoes on top. Bake for 1-1½ hours, or until tender.

Meanwhile, half-fill a large frying pan with water and bring to a simmer. Add the onion, black peppercorns, bay leaves and all of the fish, poach for 3-4 minutes. Lift the fish from the pan using a slotted spoon, and set aside. Strain the fish stock through a sieve suspended over a large bowl. Reserve the strained stock and discard the onion, bay leaves and peppercorns.

Melt 100g/3½oz of the butter in a saucepan over a medium heat. Whisk in the flour to form a smooth paste, then cook for a further 1-2 minutes.

Whisk in 50ml/2fl oz of the milk until it is fully incorporated into the roux. Continue to add 350ml/12fl oz of the remaining milk to the roux little by little, whisking after each addition, until the sauce is smooth and thick.

Pour 750ml/25fl oz of the fish stock to the roux sauce, stir well and cook for 4-5 minutes, or until the sauce is smooth and just thick enough to coat the back of a spoon. Any remaining fish stock can be chilled and frozen for use in another dish.

Stir in the lemon zest and juice, and the parsley, then season with pepper. Remove from the heat. Stir the prawns into the sauce, then flake in the poached fish, keeping it in reasonably large pieces. Transfer the pie filling to a large ovenproof dish.

When the potatoes are cooked, remove them from the oven and increase the oven temperature to 220C/200C Fan/Gas 7.

When the potatoes are just cool enough to handle, slice them in half, scoop out the flesh and pass it through a potato ricer into a pan set over a medium heat. Add 75g/2¾oz of the butter and the remaining of milk to the potatoes and beat over the heat until the mash is smooth and thick and not too soft.

Spoon the mash into a piping bag with a large star-shaped nozzle and pipe the mashed potato all over the fish pie filling. Sprinkle over the grated cheese. Alternatively, just spread the mashed potato onto the filling using a palette knife.

Place the ovenproof dish onto a baking sheet and cook in the oven for 5-10 minutes, or until the cheese and potatoes are golden-brown and the pie is heated through.

While the fish pie heats through, bring a pan of salted water to the boil, add the peas and cook for 2-3 minutes, until tender. Drain well and return to the pan, then stir in the remaining butter and season with salt and pepper. Serve the fish pie with the peas alongside.
Top recipe tip
This dish can be prepared in advance and cooked later. Pipe the mashed potatoes onto the pie filling and sprinkle over the cheese, then leave to cool before chilling or freezing until needed. Defrost before cooking and bake for 30 minutes, or until piping hot throughout.
Find this and more recipes on line.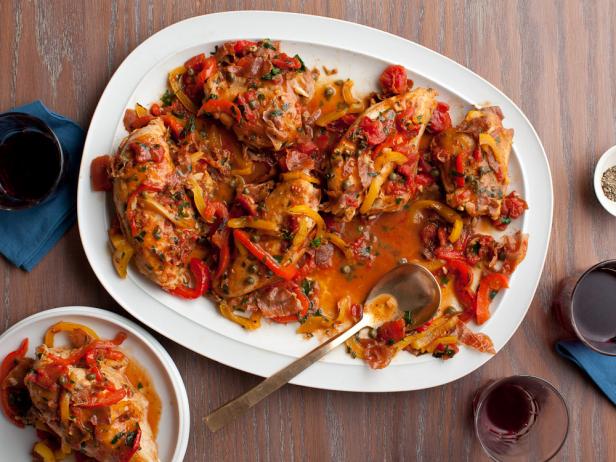 Title: Roman Chicken Recipe: Roman Chicken
Ingredients
4 skinless chicken breast halves, with ribs

2 skinless chicken thighs, with bones (Remove before serving)

1/2 teaspoon freshly ground black pepper, plus 1 teaspoon

1/4 cup olive oil

1 red bell pepper, sliced

1 yellow bell pepper, sliced

3 ounces prosciutto, chopped

2 cloves garlic, chopped

1 (15-ounce) can diced tomatoes

1/2 cup white wine (optional but achohol will burn off)

1 tablespoon fresh thyme leaves

1 teaspoon fresh oregano leaves

1/2 cup chicken stock

1/4 cup chopped fresh flat-leaf parsley leaves
Season the chicken with 1/2 teaspoon pepper. In a heavy, large skillet, heat the olive oil over medium heat. When the oil is hot, cook the chicken until browned on both sides. Remove from the pan and set aside.
Keeping the same pan over medium heat, add the peppers and prosciutto and cook until the peppers have browned and the prosciutto is crisp, about 5 minutes. Add the garlic and cook for 1 minute. Add the tomatoes, wine, and herbs. Using a wooden spoon, scrape the browned bits off the bottom of the pan. Return the chicken to the pan, add the stock, and bring the mixture to a boil. Reduce the heat and simmer, covered, until the chicken is cooked through, about 20 to 30 minutes.
If serving immediately, add the capers and the parsley. Stir to combine and serve. If making ahead of time, transfer the chicken and sauce to a storage container, cool, and refrigerate. The next day, reheat the chicken to a simmer over medium heat. Stir in the capers and the parsley and serve.
Recipe courtesy of Giada De Laurentiis